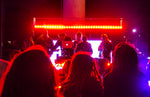 The Ethik Compound at SXSW
From the 14th to the 17th of March, Ethik took over SXSW with an entire compound for creatives. Dozens of artists traveled across the country to perform at the Ethik compound, highlighted by Yvng Swag on Friday night and Pittsburgh rapper Chevy Woods on Saturday night. Chevy Woods not only performed, but also dropped his newest collaborative collection with Ethik.
Along with the memorable performances were appearances from popular creatives including Supreme Patty and Chanel Westcoast. On the apparel side, multiple companies set up booths joining Ethik at the compound including Hemper co. and FTL (Follow The Leader).
The event was an overall success for the Ethik team. Thank you if stopped by the compound and supported us. Be sure to check out the photo gallery below and hope to see you next year.