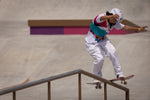 Skateboarding just made its Olympic debut this year alongside other action sports competitions like Surfing and BMX Freestyle but no other competition is as densely populated with young talent as the women's skate.
Two 13-year-olds, Momiji Nishiya and Rayssa Leal, battled down to the last trick in the women's street competition. The bronze medalist, Funa Nakayama, is only sixteen. All three riders demonstrated good technique and consistency.  There was only a couple points to separate Nishiya and Leal going into the final round.
Ultimately it was Nishiya's massive 360 pop shove-it to backside boardslide that sealed the gold. Placing Nishiya within just months of being the youngest Olympic gold medalist ever, an honor that belongs to Marjorie Gestring, a diver who won at age 13 years and 268 days at the 1936 Berlin Games. Nishiya's victory is a landmark for the sport of skateboarding as well as for the Olympics itself.
Skateboarding has long been seen as an underground or counterculture sport, but now with the addition of skateboarding to this year's Games it is certain to bring more attention and recognition to the sport, especially for women and young people.
Check out the highlights from Nishiya and Leal's final showdown HERE.
To shop women's streetwear click HERE.