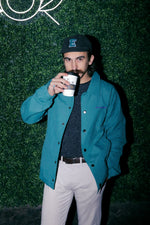 Gift Guide: Shopping for the Cool Dad
Whether you have a cool dad, are a cool dad, or you just like cool stuff, here is a list of items that are guaranteed to wow this Holiday season.
The Speed Coach and the Varsity Unstructured 6 Panel:
Dads tuck their sweaters into their khakis and pay with cash. But only cool dads will be seen wearing this windbreaker on their morning coffee run.
The Ethik Globe Trotters and the Suede Camper:
If you're choosing whether to grab a case of light beers or a sixer of some craftys just remember you have the silky varsity jacket on, your hat is made of suede. Why not go for both cool dad?
Half Zip Sherpa Fleece Jacket and Cherubz Sweats:
Dads love comfort. What cooler way to express that idea than to buy your dad a cozy sherpa and some cool sweats? Pair with a corduroy dad hat for added dadness.