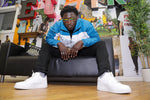 I first heard of Ethik through a previous manager. After I was introduced to the Ethik world, I started going to events that were held there (South Street). I saw a lot of people wearing it. Then my buddy Don Carter, photographer, asked me to do a shoot for Ethik, which we did and had a lot of fun. I got some gear that I really loved so I was wearing it everywhere. I had shows and photo shoots, so it was perfect.
'Can't FWM' what was the inspiration behind that one?
I just had realized I had a lot of good things going in that span of the moment and was just on some bravado shit. The beat kind of just called me to talk my shit on there and yeah, I just was talking how I felt. Talking my shit. It's letting people know what it is.
That I am fucking lit. I am who I am. And a lot of these people can't fuck with me. Whether that's in whatever category, not just music, like, whatever you want to put it to basketball, these ****** don't hoop. Video games, I don't even play video games for real, but if I got on my shit, they couldn't fuck with me on that either. So it's just whatever. I know a lot of these ****** not touching me on the music shit.
What are you working towards at the moment?
I just got two fairly recent new jobs that I've been working with. So I've been switching up my time schedule. I work seven days a week. So at this point right now, I'm saving up a lot of money to put out some better releases. I'll be dropping singles, as of right now, and I am working on a couple of different projects that I am excited to put out in the near future.
I got a pop up show. Somewhere in Upper Darby or Lansdowne and that's on May 28th. And then June 24, I'll be in London, Ontario headlining a show.
What's something most people don't know about you?
I can't swim.
Are you afraid of water?
I kind of am honestly, because I can't swim. Maybe it's a barrier block but like I don't really like being in open water like on a boat or something. I did perform on a boat though. It was a Lil Twinn and Mizzy Coke show in AC last summer.
But yeah, I've done that. But I mean, I can't swim and I'm a very picky person. I'm just a picky eater, like, name something and I probably won't eat it. Like, I don't like pickles off rip.