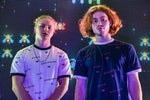 Ethik links up with rising Boston artists Danny Diamonds and Chase Murphy
Ethik caught up with two of Boston's finest up and coming artists, Danny Diamonds and Chase Murphy, for an exclusive interview and a Fenway photoshoot in soon to be released Summer I apparel. We talked Boston's rap scene, touring the Northeast, and what's next with the duo that makes up Golden Boy Music Group.
Ethik: Let's start with the beginning, when did you guys become friends and start making music together? When did you guys realize that you had a lot of positive momentum going?
Danny Diamonds: We met when I was a sophomore in high school.
Chase Murphy: We kinda became boys through music, we really met in a musical setting as we took a musical production class together.
D: Low-key Chase would clown my music back in the day. I had a reputation back then and Chase always was trying to start something with me. Then we took this musical production class together and one day we somehow ended up back at his crib freestyling. After that day we kinda clicked and later realized that we had actually went to preschool together.
E: No way!
C: Yeah, how we crossed paths down the road was a crazy thing.
E: When was the first time you guys thought that you guys had something special?
C: Damn, I mean, I wouldn't even say that we have even hit that point necessarily. For years at a time, like back in high school, the process was so fun even though we were taking baby steps.  
D: Chase and I had both made music on our own before but when we started working together it became more about the step-by-step and learning the necessary building blocks of creating a cohesive track. That was what really had us hooked.
After recording several solo tracks together we began working on my first mixtape, "Come Around", which was when I felt like we started to get more excited about this stuff. Just diving into the basic stuff like learning to mix, learning to song write, learning how to pick things apart was what was so exciting. That's when I feel like we realized that this sound we were building was a bit ahead of the curve.
Me and Chase would be working on music all the time. It was really cool to have a friend that I could create with like that for the first time. My other homies could appreciate the music and critique it but were never as passionate enough about the process to actually get involved.
Chase was one of the first people to really see my vision and be willing to sacrifice the hours so we could create something refined and purposeful. And that was exciting as fuck.
E: I am lucky enough to create with one of my friends so I definitely know what you're talking about. You're definitely right when you said that having that process with your friend is the most fun part.
You guys have had some really cool gigs over the past few months, from the Higher Ground show to opening for Amine. Could you give me the low down on those gigs? Were you hella nervous or just really excited?
C: The Higher Ground show was like the cherry on top after a whole leg of shows in New England with 99 Neighbors. We had a show at St. Lawrence University, a show in New Hampshire, a show in Boston, and then the Higher Ground show ended up being a big finale to all of those shows that we did with them.
I feel like our performance has really developed and it feels like our set overall have become much more fluid. That show was such a fun way conclude the last couple of months of 2018. 99 Neighbors are obviously great live so we were just thankful to be apart of it.
D: Yeah, I feel like those shows that we did with 99 Neighbors definitely helped us grow a lot from a performance standpoint. They're great at what they do. It was also just good also to do so many shows in such a short span of time. Big thanks to them for providing us with that space to grow.
Opening for Amine was awesome man. It was definitely the biggest crowd I've performed in front of as a solo act. Just a dope opportunity that I am really thankful I got to be apart of. I had been searching for a good way to tap into the student demographic at Boston University and this was honestly just the perfect look. Thanks to our recent experience on tour with 99 Neighbors, and also this opening set I did in October when Abhi the Nomad came to Boston, I felt like we were able to easily rise to the occasion and represented ourselves properly.
E: You guys are very proudly from the Boston Area. What does being a Boston artist mean to you and how do you try to rep the city?
C: A lot of pride and belief in your peers. Boston is a city that has always had such a high standard in my mind from sports teams to professional careers, I feel like Golden Boy (Danny and Chase's production group) has always tried to exemplify that refinement. We like describe GBMG as Boston's Gold Standard. Just want to represent Boston in the best way possible.
D: Boston is a place that not a lot of people make it from, but it is a place that a lot professionals who have had successful careers will come to. Growing up in the city I've seen both extreme poverty and extravagant wealth, just from the relationships I've made and sustained.
The financial disparity is astounding. It's not easy to sustain yourself as a successful person in such an expensive city and that was what always motivated me to succeed here and not anywhere else. Making it from Boston is like going super saiyan. In terms of the music scene too, there are so many great artists in Boston that nobody knows about.
The hip-hop scene is very community based where people can sell out shows by getting their homies to come but still won't have any kind of notable streaming count or online presence. It's all just so tight knit.
There are just so many obstacles to making it from Boston. Everyone is on their own wave and nobody wants to support other artist in the same boat. Obviously we don't play into that but you could go to LA for instance and it is an already established hub that you could easily build with other people. Making it from Boston would be so much sweeter because of those obstacles though and that is why we've set up shop here.
C: I feel like Boston is on the verge of something, like how you see cities and states pop up over time, like Florida the past few years, Atlanta over the past decade.
D: Exactly, St. Louis too!
C: I feel motivated not only by Golden Boy and what we are building, but also by a lot of peers around here who I really respect.
D: It's all building around us and for sure it used to be all about Golden Boy, but now we are just really proud of Boston. There is a lot of artists and just creatives in general that we believe in here. Hopefully one day we can turn this city into a music hub comparable to LA or NY.
E: What is your creative process? You guys do a bunch of stuff on your own, but what is it like when you come together?
D: When we work together it's different pretty much every time. It really depends on the song, but sometimes Chase will bring me something that is already put together or vice versa. If we're starting from scratch, we'll freestyle melodies then put words to it.
We have always cared a lot about lyrics. That's something completely embedded into my songwriting style and identity as a Hip-Hop artist. Clever, thoughtful lyrics are what make a good song great.
E: You guys have both released very different tracks over the past few week. Could you guys tell me a bit about each one?
C: "Rumors" is the first single off of my upcoming project Long Winters. I have been working with this producer from Iceland, Frio, for the past two years and we have been stockpiling a lot of songs and it is super exciting to release this with him. The cover art is also something I am super proud of. It has all of my boys on it and is going to be a classic cover in my heart. It was inspired by Norman Rockwell's The Gossips.
E: Danny, do you want to talk about "Things Change."? I know that it is a track that is super close song to you.
D: Yeah, my childhood friend passed in November and it kind of changed my whole outlook on everything, especially my entire purpose as a creative. After that went down I kinda just stopped getting complacent with myself and ended up churning out a bunch of tracks in the following months. The entire time I was just trying to find the right song to talk about my friends passing and after a couple of failed attempts I penned out "Things Change."
The song is just a reflection on the fragility of life and my conscious decision to let my friends death impact me in the most positive way possible. He always supported my music ever since we were kids and I know he would have wanted me to push on. I just wanted to make a song that I thought he would've liked and that gave me peace with the whole situation. I didn't want to just drop new music without addressing his death first, especially after being on such a long hiatus. A lot of tears shed while writing that song, as you can imagine. Adam was a great kid. In the future I'll definitely make some happier music for him, just to honor and remember his legacy. So thankful to have had him in my life. R.I.P. to my dawg.
E: So what is next for you guys, I know you both brought up future projects.
C: That project with Frio will be dropping in early May.
D: I got some shit coming soon! Listen, I don't know when it is coming out but I do know when this shit drops it won't be no joke.
E: Ok, I won't press you Danny! So I saved the most important question for last. You guys both have fantastic hair, what is the secret? Pantene? Head and Shoulders?
C: Imma need a sponsorship before I say anything.
D: I am on that Head and Shoulders. Chase and I have naturally good hair, that is just what it is. Shout out L'Oreal Paris, let me know if you ever need any male models. Just know this ain't dyed this is some real color right here.
A huge shout out to Danny and Chase for their time. Be sure to follow Ethik on social media @ethikworldwide to keep up with us and our latest clothing releases. Be on the lookout for our Summer I collection which will be dropping exclusively online on April 28th. You can follow Danny and Chase on Instagram @dannydiamondss and @chasechowder
Photos and interview by Billy Bevevino (@bill_bevevino on instagram) for Ethik Worldwide