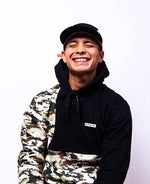 Ryan Niranonta is sponsored by Ethik Worldwide, Fiend BMX, and Animal Bikes.
Ryan filmed his first biking clip when he was just ten years old, over seventeen years ago.
His latest part was in "FACTS" for Animal Bikes but he is currently working on his edit for the upcoming Chocolate Truck 2.
To watch Ryan in "FACTS" click HERE.